October 2018 Art & Faith Creative Retreat in Italy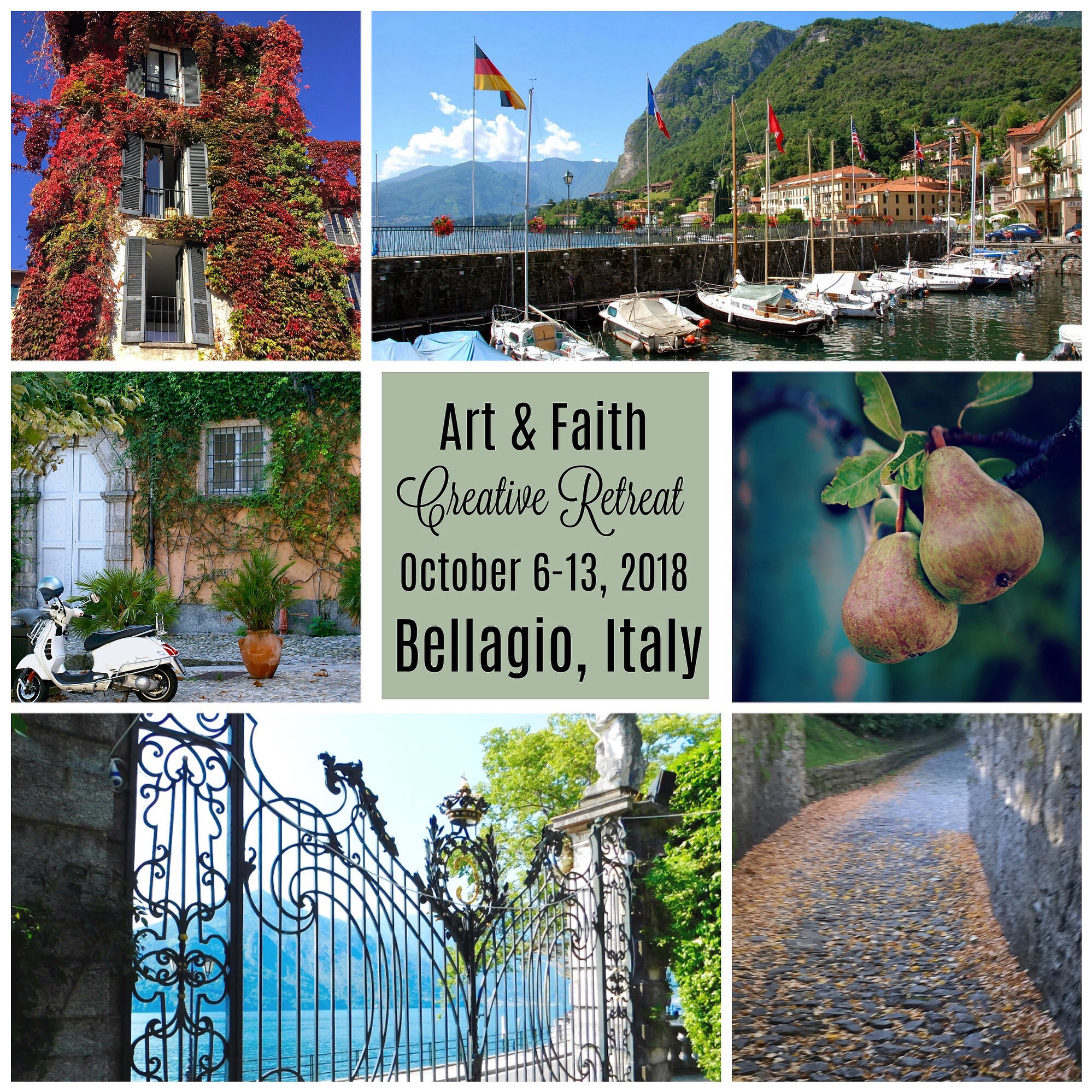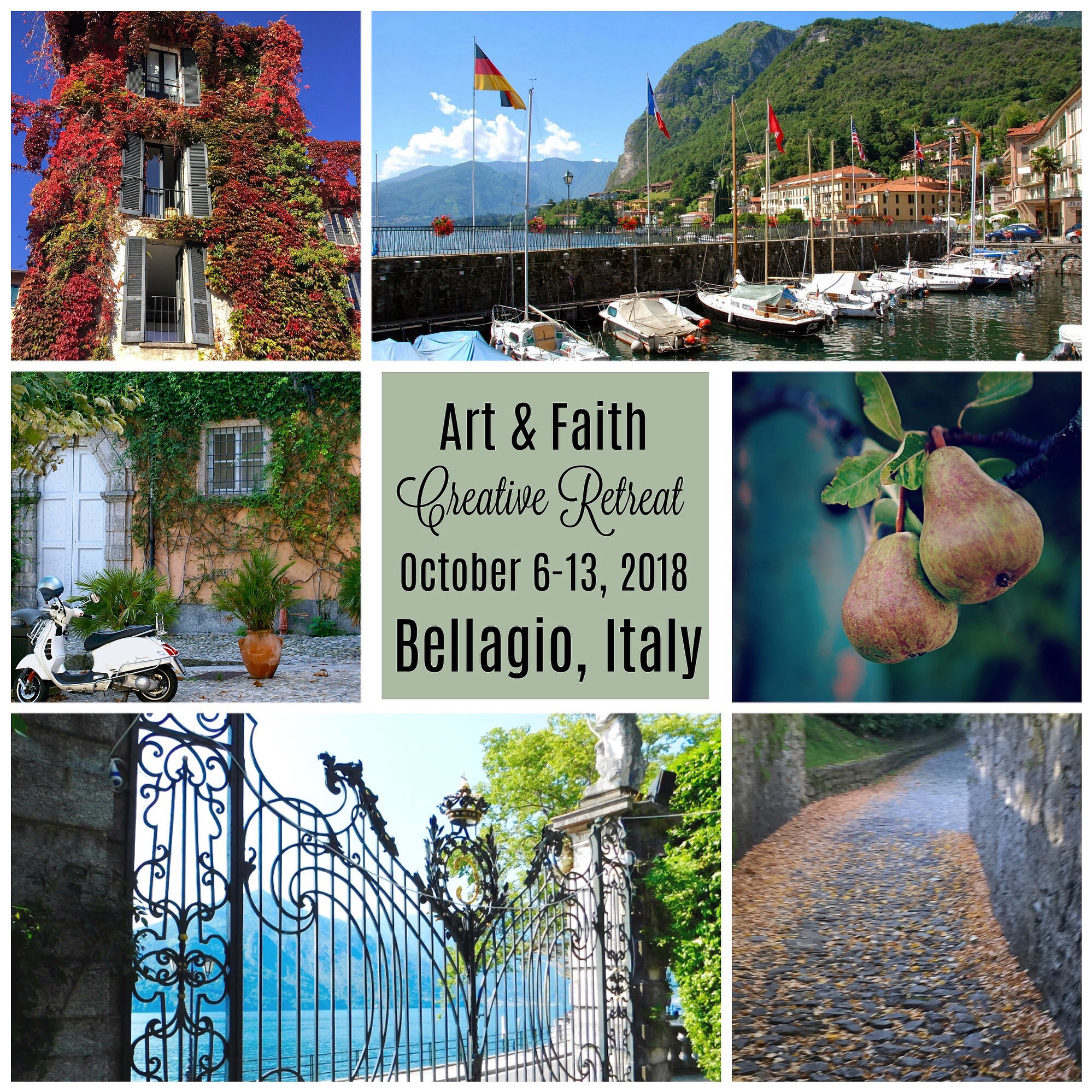 sold out
October 2018 Art & Faith Creative Retreat in Italy
We are so excited you want to join us in Bellagio next October!
You will find all the details of what is included in the price of the weeklong event in Italy below. When you sign up today, you will pay a $695 non-refundable deposit that will go towards your Registration. Once you make your deposit you will receive a notification from Squarespace. I will also be sending you a welcome email shortly with details on our private FB group, the contract for the weeklong event to look over and sign and how we will set up a payment plan.
We look forward to welcoming you to beautiful Bellagio next October!
Here's a preview of what the 7 night Bellagio Art & Faith Retreat will include:
- 7 nights at the Grand Hotel Villa Serbelloni Apartments, Hotel Florence or La Limonera Apartments
- Opening Reception overlooking the gorgeous lake
- Tour of Bellagio, including the history of this region by a local tour guide
- Private Tour of Villa Melzi Gardens
- Morning Devotions and time to "Be Still" in the beautiful surroundings
- Excursion to a Monastery or Historic Castle in another charming village on the lake
- Bible Journaling and Art Classes in the beautiful event room of the Grand Hotel Villa Serbelloni
- Excursion on Lake Como exploring the breathtaking sights along the lake on a private boat tour
- Ferry's to and from our excursions and meals as we discover the treasures this place has to offer
- Tour of a famous Villa across the lake from Bellagio
- Time to enjoy a walk with the teachers to sketch and journal
- Wine and Olive Oil Tasting at a private villa
- Lunches and dinners in gorgeous locations around the lake
- Grand Finale with dinner and surprise
- Transfer to and from MXP airport is included on a luxury private bus
- Free Make-n-Takes
- Amazing SURPRISES I can't reveal yet…but they are AMAZING!
- Plus time to relax by the lake or pool, stroll the cobblestone streets and enjoy LOTS of Gelato!
- Live music in the music room each night
- And…an unforgettable experience in Italy you will treasure forever!!
** This price does not include airfare
Price for the 7 Night Bellagio Retreat:
$3499 Per Person/Double Occupancy
$4299 Per Person/Single Occupancy
Please always feel free to email me if you have any questions!
So let me invite you to enjoy a week away... to step away from life and be RENEWED and INSPIRED. To relax and enjoy time being creative in such a beautiful setting.
Jeremiah 31:25 says "For I will satisfy the weary soul, and every languishing soul I will replenish." My prayer for everyone interested in joining us on our Art & Faith Creative Retreats is to seek out that time to be renewed in your faith and refreshed in your spirit. To ask the Lord to draw you closer to Him as you open yourself up to being CREATIVE and finding that connection between ART & FAITH. I hope you will take this time to "Be still, and know that He is God..." while you wander down cobblestone paths, explore beautiful lakefront gardens, and enjoy delicious meals with new friends! That is what our Creative Retreats are all about and Lake Como, Italy is the perfect location for these beautiful moments to take place.
We are so honored that you would want to join us in this weeklong event next year. We know the Lord has some GREAT plans for this week! Sheila Atchley and I are praying for this week to be a time the Lord really speaks to your heart... and we can't WAIT to meet you in Italy next year!
Hugs,
Laura